Tascosa High School
Class Of 1982
In Memory
Sherrie Huckaby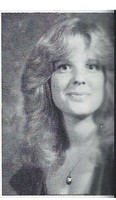 Sherrie Dee Huckaby, 37, formerly of Amarillo, died Thursday, Dec. 21, 2000, in Portland, Ore.
Memorial services will be at 2 p.m. Thursday in Rector Funeral Home, 2800 S. Osage St., with Gene Shelburne, minister of Anna Street Church of Christ, officiating. Cremation has taken place.
Mrs. Huckaby was born in Oakland, Calif., and lived most of her life in Amarillo. She graduated from Tascosa High School in 1982. In 1985 she moved to Portland, Ore., where she had worked as a data entry clerk in the computer industry for 15 years.
Survivors include a son, Andrew Casey Huckaby of Portland; her mother, Lana Case of Amarillo; her stepmother, Patricia Huckaby of Amarillo; a brother, William Huckaby of Mesa, Ariz.; and two stepsisters, Kim Barrow and Anna Slaughter, both of Amarillo.